Fri., June 10, 2011
Sarah's 'Going Rogue' For Sale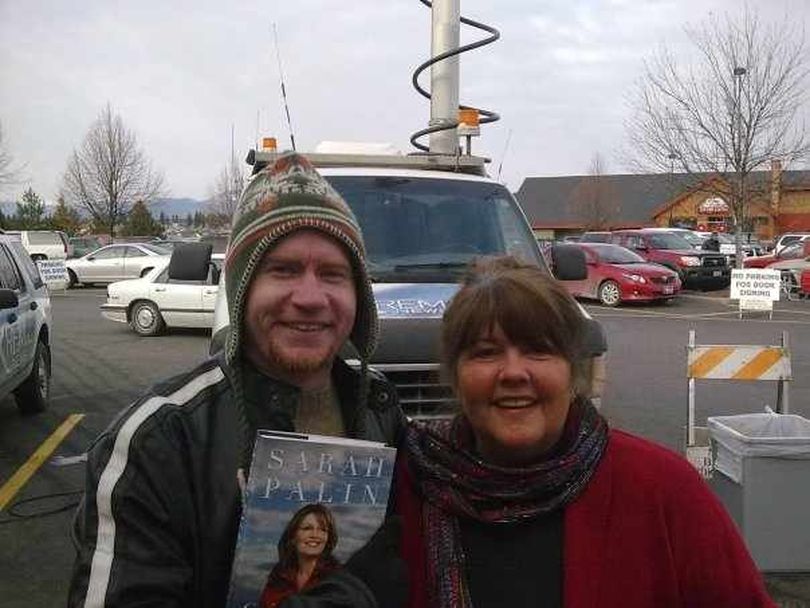 Matt poses with Kerri Thoreson after buying an autographed copy of Sarah Palin's "Going Rogue" at Coeur d'Alene Fred Meyer in December 2009. Matt tells Huckleberries.
So do you remember back in December 2009 when Sarah Palin rolled into Coeur d Alene on her book tour? Well I was there, waited in line, freezing, for 5 hours to meet her. Well I'm now selling a first edition Autographed copy of Going Rogue. The book is in perfect unread condition. I figured one of your loyal readers might be interested in taking this item off my hands. I'm asking $50 for the book. If one were to look on ebay the same thing is currently selling for $200 so this is quite a deal.
DFO: Usually, I don't advertise things for sale here at Huckleberries Online. But this one from a long-time blog reader has piqued my interest. Can't help but wonder about the back story. Has the Berry Picker grown tired of Sarah Palin? Or does he simply need a few extra bucks? If you're interesting in buying the book, contact Matt at cdagardner@gmail.com
Question: Are you interested in buying a signed, first-edition copy of Sarah Palin's "Going Rogue"? Phaed?
---
---