Tue., June 21, 2011
Redistricting Will Affect North Idaho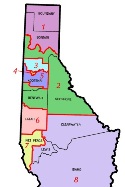 At the KEA Blog, Terry Harris writes: "New lines for Congressional districts are not likely to affect north Idaho, as the entire panhandle is expected to remain in the 1st Congressional district. However, new lines in legislative districts are likely to shift significantly. Census data shows a significant migration away from rural areas and into more urban and suburban areas. Kootenai County and the Rathdrum Prairie cities kept pace with Idaho's overall growth, but Shoshone and Clearwater Counties lost residents and Boundary, Bonner and Benewah counties grew at a somewhat slower rate than the rest of the state. The result is that the more rural panhandle — consisting of Districts 1 through 8 — has lost about half of a legislative district."
The Commission will be holding hearings throughout the state, and hearings in North Idaho are scheduled for this Wednesday. (Sandpoint from 2-4 pm at the Sandpoint High School Auditorium, Coeur d'Alene's from 7-9 pm at Meyers Health and Sciences Building at NIC.)
Question: Wouldn't it be a hoot if District 2 is realigned to force Rep. Phil Hart, R-Athol, or his other 2 District 3 playmates to run against the current District 2 legislators, including Rep. Dick Harwood, R-St. Maries?
---
---