Tue., June 21, 2011, 8:16 a.m.
Valley Applebee's Auctioning Stuff
A sinister part of me would rather not be spreading the word about the hundreds upon hundreds of collectibles that will be auctioned Thursday night inside the Spokane Valley Applebee's restaurant at Mission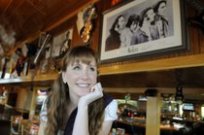 and Pines. Applebee's, you see, will soon be updating its décor. So the management decided to let the public bid on the eye-catching items that have been displayed on the restaurant's walls for years. Most of the items were donated back when the restaurant opened its doors. The idea was to infuse the business with local flavor. Items like vintage advertising signs, say. And celebrity photographs. And movie posters. And Valley high school band uniforms. And musical instruments. And old fishing gear/Doug Clark, SR. More here. (SR photo: Dan Pelle)
Question: What type(s) of memorabilia do you collect?
---
---