Tue., June 28, 2011
Another Pol Sent Underwear Photos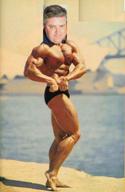 Taegun Goddard's Political Wire reports: The New Orleans Times-Picayune reports that local city councilman Joe Stagni (R) admitted "that he sent a picture of himself in his underwear to a city employee 18 months ago and that the image ended up on a city computer server." Said Stagni: "I asked for God's mercy and forgiveness. I apologized to my wife and family and asked for their forgiveness as well. My actions and bad judgment had nothing to do with my duties and responsibilities as a public official. They were private acts, but I take full responsibility for my irresponsible behavior. "
DFO: Huckleberries is checking out origination of photo of local pol seemingly competing in muscle man competition. It appears to be fake. ;-)
Question: Can anyone remember a female politician doing this sort of stupid thing?
---
---