Fri., March 11, 2011
PM Scanner: Woodland MS Stabbing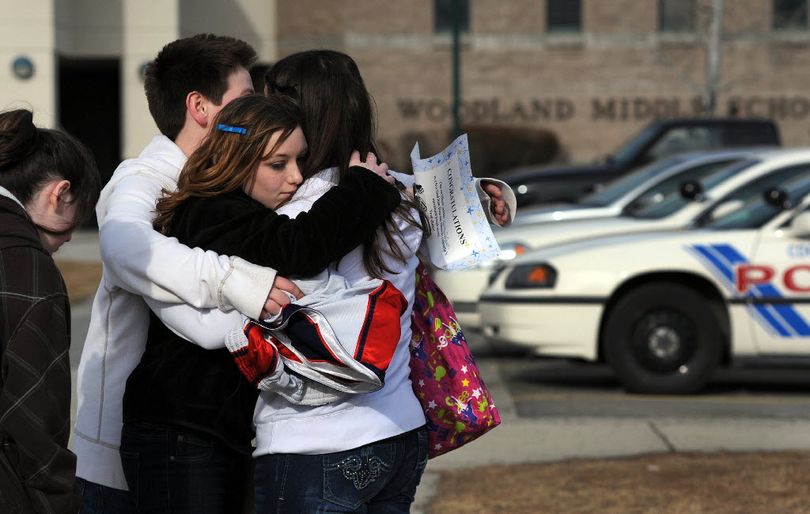 "It's hard to believe that I know someone who would try and kill someone else," said Woodland Middle School 7th grader Marissa DiQuarto, front facing, as she hugged fellow classmates after stabbing at the school in Coeur d'Alene on Friday, reported on Scanner Traffic in 2:27 p.m. item. An eighth-grader has been taken into custody. Jody Lawrence-Turner story here. (SR photo: Kathy Plonka)
5:14 p.m. Spokane River resident wants someone to remove dead deer in water near his dock.
4:58 p.m. Caller reports 2 males are shooting their guns at bank near Rathdrum City Park. But officer discovers that they're in the county and legally shooting pellet guns.
4:37 p.m. 5 juveniles are running across H41 in front of cars @ M/P 6.7 (Coeur d'Alene/Rathdrum).
4:19 p.m. (from school release via MarkR): "The perpetrator has been apprehended and it was determined that the weapon was a knife and not a pencil as was earlier reported. The District Crisis Team will be on hand at Woodland first thing Monday morning to provide support as needed to staff and students."
3:42 p.m. CPD Blues are looking for 15YO girl named Martha who didn't attend school today.
3:30 p.m. Lockdown lifted at Woodland Middle School after 2:27 p.m. stabbing w/pencil.
3:27 p.m. Blue pickup w/man inside is parked in Ameritel lot after crossing median and hitting 2 vehicles @ H95 & Ironwood/CdA.
3:02 p.m. EMTs are en route to a trauma injury at the Kroc Center, Golf Course Road/CdA.
2:44 p.m. Man in 1100 block of S. Breezy Way/PF is crying and saying he wants to die. Update (3:10 p.m.) Post Falls officer reports he has man in protective custody.
2:38 p.m. Officers trying to sweep school are getting interrupted by parents. Sez ones: "There's parents walking all over"
2:33 p.m. Woodland Middle School on lockdown after stabbing. Coeur d'Alene police officers are now doing a sweep of the school from room to room looking for the suspect.
2:27 p.m. A student has been stabbed in the chest, upper arm, and shoulder at Woodland Middle School, 2102 St. Michelle/CdA. Victim is in the nurse's office. Bleeding is controlled. Police are looking for another student who lives in area of public golf course.
1:57 p.m. Caller reports an vehicle burglary @ Caruso's restaurant, 202 W. Ironwood/CdA.
1:39 p.m. 2 ambulances are responding to injury crash on s/b H95 @ Wilbur/Hayden.
1:01 p.m. 1 or 2 dogs have fallen through the ice on Twin Lakes, near boat launch.
12:18 p.m. Man is reportedly choking a female in 300 block of W. Timberline/Rathdrum.
12:07 p.m. Owner reports vehicle stolen from lot at Pilgrim's Market on 4th/CdA, a dark-blue, 2008 Chrysler Grand Caravan.
12:04 p.m. A 3-foot cylinder is lying in the gutter in front of a church @ 533 E. Honeysuckle/Hayden.
---
---