Thu., May 19, 2011, 2 p.m.
Hate Groups ♥ Montana, INW
Finally, Idaho has moved up -- or down, depending on your perspective -- the ranks in one category it didn't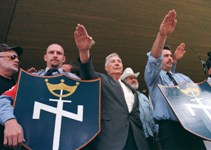 want to lead: concentrations of hate groups per capita. Believe it or not, Montana takes top honors, according to the Southern Poverty Law Center, with the greatest concentration of hate groups -- 13.8 groups per million people. Idaho isn't even second. That honor falls to Mississippi (13.7 per million), followed by Arkansas (10.3), Wyoming (9.7), and finally Idaho 8.9), in third, fourth, and fifth, respectively. You can read Richard Florida's report in the Atlantic re: how home-made hate groups are booming in the U.S. Seattle Weekly reports on the phenomenon in the article, "Washington is only 85 miles from American's foulest and most festering pool of hate" here. (SR file photo, from July 3, 1999, the late Richard Butler, center, founder of the Aryan Nations sect, salutes during a neo-Nazi rally in Coeur d' Alene. H/T: Orbusmax
Question: Do you consider Montana to be a place of hate?
---
---