Mon., Nov. 28, 2011, 8:38 a.m.
Hucks: Palin Fairest Fem-Con Of All?
Who's the fairest conservative woman of them all? That would be former Alaska Gov. Sarah Palin, as far as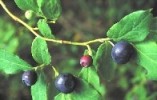 John Hawkins of RightWing News is concerned. But U.S. Rep. Cathy McMorris Rodgers does OK too among Hawkins' list of the 20 most influential conservative women in this country. The Eastern Washington congresswoman ranks No. 5. Filling the gap between Palin and McMorris Rodgers are: No. 2, columnist/author Ann Coulter; No. 3, talk-show host Laura Ingraham; and No. 4, congresswoman and presidential candidate Michele Bachmann of Minnesota. Idaho doesn't have anyone in the Top 20, unless, of course, you take into account that Palin was born in Sandpoint and attended North Idaho College and the University of Idaho/DFO, SR, Huckleberries. More here.
Other SR weekend columns:
Question: Who would you say is the most influential conservative woman in this country?
---
---