Mon., Oct. 17, 2011, 4:45 p.m.
Rusche: Per Diem Issue Clear As Mud
The 2012 Legislature will likely address lawmakers' per diem expenses, to determine who should receive a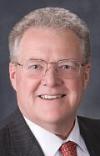 $49 payment, or a larger $122 payment, House Minority Leader John Rusche said today. In a blog posted at the Idaho Democratic Party website, the Lewiston lawmaker said, "To be clear up front, I do get a per diem payment of $122 per day during the legislative session to offset the cost of maintaining a second residence. ... "I think that the rules are fairy clear — those from over 50 miles away get a higher per diem but it is not income or added into pension amounts. Those from inside 50 miles get the lower ($49) amount, but it is treated, by IRS rules, as income and is taxed. I think commuting costs should be considered covered by the per diem. "What I thought was clear obviously is not. We will be addressing this during the session I am sure"/Kevin Richert, Idaho Statesman. More here.
Question: What should the Idaho Legislature do to fix per diem expenses?
---
---