Thu., Oct. 20, 2011, 1:30 p.m.
INW Ranks High For Suicidal Thoughts
The Centers for Disease Control and Prevention released a fascinating report today measuring suicidal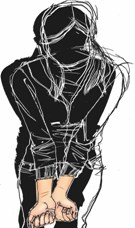 thoughts and behaviors among adults older than 18 in the United States. Residents of Idaho and Washington have among the highest percentages of "suicidal thoughts" but don't rank as alarmingly high in percentages of those who have actual plans or make actual attempts. In 2008-2009, when the scientific surveys were taken, 6 percent of Idahoans, age 18 and older, reported suicidal thoughts; In Washington, it was 4.7 percent. The U.S. average is 3.7 percent. Utah had the highest reported percentage of suicidal thoughts, at 6.8 percent. Georgia had the lowest percentage, at 2.1 percent/Rebecca Nappi, End Notes. More here.
Question: Would HucksOnline be indelicate if it asked: Have you ever had a suicidal thought?
---
---