Fri., Sept. 9, 2011
Rias: Diamond Ring No Longer Shines
In a world obsessed with jewelry, there are rings for everything. Rings for graduations, sports teams, promise rings for a new love, engagement rings and wedding bands. But now there's a new type of memorabilia ring,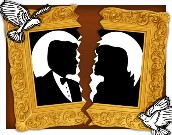 except this one doesn't represent something normally thought of as pleasant. It's the divorce ring.
This diamond ring, from jewelers Spritzer and Furman, is an 18-karat gold broken heart with a diamond wedge that represents shattered love. It's an ugly little thing that costs $3,200 — a pricey way to say, "Sorry it didn't work out." Divorce isn't something most people celebrate. Sometimes there's the post divorce party or get away that friends plan to distract the recently single divorcee, but really? Is it necessary to design specialized rings to represent a shattered heart?/Rhiannon Rias, UI Argonaut. More here.
Question: Would you wear a ring advertising your divorce?
---
---