Mon., April 9, 2012, 9:24 a.m.
Edit: Trapper Harms Hunter Image
Josh Bransford, Idaho's best-known wolf trapper, has violated no state laws, according to the Department of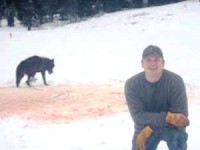 Fish and Game. But if that's all Fish and Game will say for the record, it's time someone filled in the blanks. Bransford is the kind of trapper who gives his activity — and his state — a black eye. His behavior isn't sporting. It's sickening. Idahoans will forever disagree about the wolf and its place in the state's natural order, but all Idahoans should at least be able to speak with one voice against boneheaded barbarism. Especially when it appears before our eyes. When Bransford happened on a wolf in a leghold trap, standing in a circle of blood-tinged snow, he did not put his prey out of its misery. At least not before he posed for a photo — while he smiled in the foreground, the wounded wolf standing in the background/Idaho Statesman. More here.
Question: Do you have a favorable/unfavorable view of Idaho hunters?
---
---