Wed., April 11, 2012
Kroc's Chamness Lauds Bloem & Co.
As we approach the third anniversary of the Kroc Center, and my final days as the Kroc Administrator, I have begun to reflect on what a privilege I have had these past eight years being involved with the Kroc Center and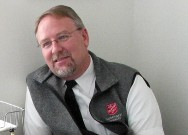 the Coeur d'Alene community. I can still vividly recall how our community competed against cities like Seattle, Tacoma, Everett, Denver and Oakland, just to name a few, and how our city won. I recently spoke in Vancouver, B.C., to leaders from 100 municipal-run community centers across British Columbia and I was asked, like I have been asked so many times before, how did Coeur d'Alene beat out all of those other cities? The answer is simple. We have a visionary mayor and City Council members who saw a once in a lifetime opportunity and took it. They were willing to put their political careers on the line because they care more about this community and making it better than their jobs/Salvation Army Major John Chamness of the Kroc Center. More from Coeur d'Alene Press letter to the editor here. (2007 SR photo of John Chamness being interviewing by DFO)
DFO: Major Chamness's statement re: the role played by Mayor Sandi Bloem & the 3 council members targetted for recall reflects the statement made by founding Kroc member Jack Riggs. Riggs has encouraged all Kroc Center fans and users to refuse to sign recall petitions.
Thoughts?
---
---