Mon., April 16, 2012, 2:56 p.m.
Going Rogue On Yard
For years, my wife has asked me to remove the overgrown "dwarf" spruce, mughos, bird's nest, Russian olive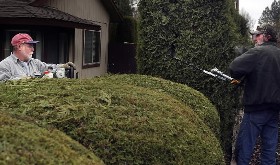 tree and sundry other evergreen/perennials in our yard. I decided to begin the project in earnest Saturday morning. But I didn't expect to get as much accomplished as I did. Prompted by a brother, a pickup, and a chain, I pulled everything out in the front yard before she returned home from a church Bible study. All she saw were the remains of the evergreens, etc., that we'd planted more than 30 years ago. And broken lattice that now is evident in the lower half of our front porch. Which, of course, means no rest for the wicked. I need to start replanting and fixing a lot of things that once were hidden by the overgrown bushes. (SR file photo for illustrative purposes)
Question: How about you? Do you have a house or yard project that you've ignored for years? What is it? What's keeping you from tackling it?
---
---