Mon., April 16, 2012, 2:40 p.m.
Romney Seeking VP Running Mate
Presumptive Republican presidential nominee Mitt Romney named a longtime adviser to oversee the vetting process for selecting his running mate as Democrats accused him of running a secretive campaign. In an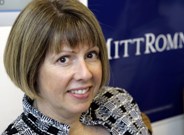 interview to be broadcast tonight, Romney declined to reveal specifics on the deadline he asked Beth Myers to meet in preparing a short list of candidates. She was a chief of staff for Romney when he was Massachusetts governor, served as his presidential campaign manager four years ago and is a senior adviser to his current bid. "I've asked her to be the person who oversees the process of the vice presidential selection and vetting," Romney said, according to excerpts of an interview with Diane Sawyer released before its broadcast on "ABC World News" and "Nightline" today/Washington Post. More here. (AP photo: Beth Myers will be in charge of selection, vetting & analysis of Mitt Romney's potential running mate)
Question: I'd guess that Mitt Romney would need a Raul Labrador-type running made who has some Tea Party gravitas as well as minority appeal. In fact, Labrador would be a swell running mate if he was an Evangelical rather than shared Romney's faith. What do you think?
---
---