Mon., April 16, 2012, 10:41 a.m.
Tubbs Hill Jr Friends Produce Guide
Quick, who's Tubbs Hill named after? Tony Tubbs, of course. Michael Gambel knew that, and the third grade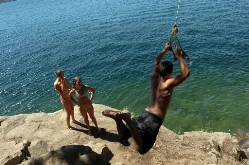 Sorensen Elementary school student even circled the hill's namesake in the latest book to come out on Coeur d'Alene's downtown jewel - a tour guide designed by Michael and his classmates. "I'm pretty sure," he said. It's right. It says so in the book. Called "Junior Friends of Tubbs Hill," the 16-page guide incorporates games and lessons for kids to follow as they hoof along the hiking hill. Some of the drawings were done by the students themselves. The cover, too. "It's cool, it's awesome," said student Kennedy Krajack, using the guide with her classmates at Tubbs Hill on Friday afternoon/Tom Hasslinger, Coeur d'Alene Press. More here. (SR file photo)
Question: How often do you hike Tubbs Hill in a given year?
---
---