Mon., April 16, 2012, 1:17 p.m.
VarsityCDA Spotlights Ex-LCHSers
Ryan Collingwood, a long-time Berry Picker and former Lewiston Tribune sports writer, has launched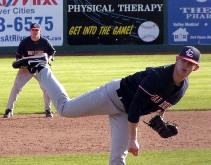 VarsityCDA.com, a Web site devoted to North Idaho prep sports. Here's a sample of his coverage: " It's a scene that's stretched a shade over a decade for Lewis-Clark State seniors Zach Clanton and Trent Bridges. In a jam, Clanton, a hard-throwing right-hander, will precede his almost-three-quarter delivery with a glance to first base followed by a death glare over right shoulder to second. At the two-bag is Bridges — keeping a wary eye on a baserunner taking a generous lead while pounding his glove — inching toward second. Clanton has no desire to keep the runner honest and fires a fastball that hits the outside corner to end the inning. More here. (VarsityCDA photo: Cd'A products Trent Bridges (back) and Zach Clanton (pitching) hope to lead Lewis-Clark State to its 17th NAIA baseball title.)
Question: Is subscription-based VarsityCDA.com a Web site that you might be interested in?
---
---