Mon., April 16, 2012, 5:22 p.m.
When Feds Called On Sara & Jennifer
Here's a scenario involving Sara and Jennifer (young mothers with 18MO babies who are leading the Stop the Recall movement). Joker assures us that it could happen:
Sara Meyer (left) and Jennifer Drake heard the pounding on their front door over as their two 18-month old babies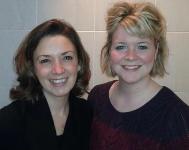 cried because they just had awoken from a nap. "Open up FEDERAL AGENTS! We have a warrant!" Before Sara and Jennifer could move – the front door came crashing down. The Homeland Security SWAT team carried automatic weapons and they moved quickly through the living room into the kitchen. "Nobody move!" One of the SWAT members screamed. "You are both under arrest." The pair were thrown to the ground and handcuffed. The babies continued to cry. Sara spoke first, "What did we do?" A short man with a crew cut dressed in a suit, "How long have you ladies been working for Al Qaeda?" Rest of the story below.
Jennifer, "What? We're moms. We are not terrorists."
"That's what they all say," the agent crackled. "Get ready for Gitmo."
"We have the item here sir," One of the men in black said holding up a plastic container."
"Very clever. Very clever indeed. You two are going away for a long, long time," the agent said. "21,000 counts of attempted murder."
Suddenly, another agent appeared, taller, younger. "Sir, there's been a mistake. The lab results came back. It's just baby powder."
The lead agent's smile disappeared. "What? Jenkins said it was anthrax in those letters."
"It's right here. Baby powder. No toxins," said the younger agent."They must have mixed the powder in by mistake when they were mailing those recall letters."
The lead agent made a motion to the SWAT team, who quickly left the building. The lead agent took the handcuffs off the Sarah and Jennifer.
He then left their house.
"Sorry about the mix-up. Have a nice day."
---
---