Wed., April 18, 2012, 11:34 a.m.
Fact: McEuen Upgrade Won't Up Taxes
JohnA: Here are the 'no-spin' the facts: Property owners in the Lake District of LCDC (less than 10% of all city taxpayers) pay about $3 million a year to the agency. Part of that money is currently dedicated to projects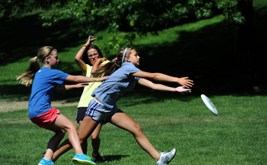 already funded in the district, like the Kroc Center, library and ed corridor. However, since McEuen has been in LCDC's plan since 1997, the taxes needed for it have been dedicated for that purpose (and NO other purpose) and are currently being received. So, there are enough taxes currently being received by LCDC to pay for McEuen. But since the taxes are paid annually it is necessary to finance the costs over time so the project can be built now rather than in eight increments (it's like building your house now rather than in eight parts.) The money is financed at less than 4% which makes it better than building one-eighth of the McEuen project each year. The annual construction bid costs alone (plus inflation costs of the construction) would easily exceed 4% per year so it is smart to finance the costs now. (SR file photo of girls playing on McEuen Field)
Thoughts?
---
---