Wed., April 18, 2012, 3:13 p.m.
Inlander: Trouble In (Phil) Hart Land
The city of Hayden, Idaho, doesn't look like much from U.S. Highway 95 — nothing more than the northern-most appendage of a sprawling strip that has become the Spokane-Coeur d'Alene corridor. Make an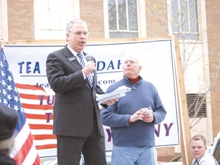 eastbound turn off the highway, however, and you're soon tooling past posh suburban developments with street names like Stratford Drive, Whispering Pines Road and Canticleer Court (the entrance to which is guarded by two huge copper-looking roosters). McMansions abound as Hayden turns into the City of Hayden Lake, which is dominated by the Avondale Gold Club and Hayden Lake Country Club. This is Phil Hart country. With an official population of just over 9,000 residents, Hayden is the biggest city in Idaho's recently redrawn Legislative District 2 and, while Rep. Hart lives in nearby Athol, Idaho, it's in Hayden that he has to lock up enough votes to hold onto his seat for a fifth term. It may be the Republican lawmaker's biggest challenge yet/Zach Hagadone, Inlander. More here. (Pacific Northwest Inlander photo)
Question: Phil Hart country?
---
---