Wed., April 18, 2012, 1:49 p.m.
Olivia, William Top Idaho Baby Names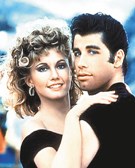 Idaho's most-popular baby names in 2010, according to the newly published state vital statistics report: Olivia and William. Placing second: Emma and Samuel, with Sophia and Logan right on their chubby little heels in third place. Rounding out the top names for girls, in order: Ava, Abigail, Elizabeth, Emily, Isabella and Ella, with Addison and Brooklyn tied for 10th place. For boys, the fourth-top pick was Ethan, followed by Jacob, Aiden, Mason, Noah, Alexander and James/Betsy Russell, Eye On Boise. More here. (AP file photo of Olivia Newton-John with John Travolta on "Grease" poster)
DFO: For some reason, I'm partial to Olivia. But I'd never name a daughter that.
Question: How did you choose the names for your kids?
---
---