Wed., April 18, 2012, 4:15 p.m.
Raul Reshapes Tea Party For Media
A freshman Idaho congressman, unsatisfied with news coverage dominated by the top members of the House of Representatives, has put together a group of tea party-backed freshmen who are trying to influence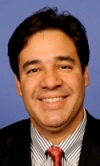 how bloggers and traditional media are covering Congress. Idaho Republican Rep. Raul Labrador has organized a group called Conversations with Conservatives that features firebrands of the House freshman class. They often aren't happy with how the media portray them, and they're trying to shape coverage by offering easy access to the press to ask them about anything. Labrador said they were the rank and file whose voices could get lost in the news conferences that the Republican leadership held routinely. The freshman group has had two events so far, featuring a panel of about a dozen conservative lawmakers answering whatever questions the assembled media wanted to ask or that came in on Twitter from those watching live on the Internet/Sean Cockerham, Miami Herald. More here.
Question: What do you think of Conversations with Conservatives?
---
---