Mon., April 30, 2012, 12:01 p.m.
Dating Extends To Rival High Schools
Bo Petterson and Sydney Lee traded jabs at each other about their respective schools Thursday afternoon.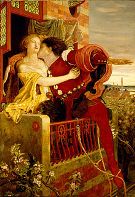 Lee, who plays golf for Twin Falls High School, highlighted the Bruins' academic reputation and athletic prowess. "Twin is always better, so we don't even worry about them," she said. Petterson, a junior baseball player for Kimberly, defended his Bulldogs. "Well, you guys are in a different division so it doesn't even matter," he said. "Our school is more laid back, but we still learn the same stuff. Plus, we have a great agriculture and shop program." Petterson, sporting brown dreadlocks that fall in his face and Lee, with her Chacos sandals and bright disposition, make a light-hearted couple that doesn't care about their Twin Falls-Kimberly hook up — despite the smack talk back and forth. "It really isn't that big a deal," Lee said. "A lot of the Twin girls seem to like the Kimberly boys"/Stephen Meyers, Twin Falls Times-News. More here. (Wikipedia photo: Balcony scene of Romeo & Juliet)
DFO: In high school, I dated a girl from a smaller school nearby. We weren't exactly rivals because my school didn't play hers. But the schools weren't friendly either. How about you?
Question: Did you ever date a girl/boy from a rival high school? Or that society or family opposed? Tell us about it.
---
---