Mon., April 30, 2012, 2:18 p.m.
D's: SService Should Recruit Women
Del. Eleanor Holmes Norton (D-D.C.) called on Secret Service Director Mark Sullivan last week to more aggressively hire and promote women in the wake of the recent scandal in which Secret Service agents are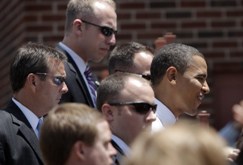 believed to have brought prostitutes back to a hotel in Colombia where President Obama was going for a state visit. Norton said it is "significant" that a woman, Paula Reid, took the first steps to address the scandal at the Secret Service. Norton said Reid "lost no time" sending home a Secret Service unit over their alleged involvement with prostitutes in Colombia/Pete Kasperowicz, The Hill. More here. (AP file photo: Secret Service agents surround Barack Obama)
Question: Should the Secret Service hire more women to address the "old boys' network' that is embroiled in a sex scandal at the moment?
---
---