Mon., April 30, 2012, 1:04 p.m.
Should Bent Open BBQ Now?
"Opening a business isn't as easy as I first envision it to be," writes Bent of Bent's Pitchamps BBQ. "I had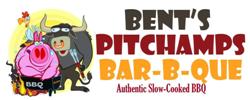 hoped to be opened this week. I am close... I've got the painting nearly done, the counters are built and covered in stainless steel, the hood and fire suppression system are re-certified, waste water system is set, gas lines re-plumbed, logo is done... still need to install an electric meter, get my health permit, order business cards, get my website completed, and paint my signs... maybe I should just focus on my health permit and have a soft opening with just a few items so I can generate some income while I finalize everything else. After all, I am starting to get this feeling like I'm never going to be completely ready to open, so I might as well get started and ramp things up slow."
Question: Bent wonders: What do you guys think? Should Bent attempt a soft opening on Best Avenue/CdA? Or open only when everything is ready to go?
---
---