Mon., April 30, 2012, 11:46 a.m.
Vieselmeyer: Voters Unhappy w/Hart
(Phil) Hart's primary opponents include Ron Vieselmeyer, 71, an outspoken Christian conservative, ordained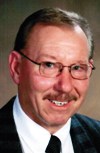 minister, former state lawmaker and current North Idaho College trustee; longtime Hayden real estate appraiser Ed Morse; and local firefighter Fritz Wiedenhoff. The winner of the four-way race will face Democrat Dan English in November. Vieselmeyer said issues aren't as much at stake in this year's race as people. "It's either somebody else wins and represents them, or they continue to have Phil Hart representing them," he said. "And that's been an uncomfortable situation for a lot of people"/Betsy Russell, SR. More here.
DFO: I've been trying to figure out how former legislator Ron Vieselmeyer will affect this race. He attracts the same conservative crowd as Hart. Meanwhile, Reagan Republicans have endorsed Ed Morse. I view this as a three-man race with Fritz Wiedenhoff finishing a distant fourth.
Question: Will Ron Vieselmeyer pull votes away from Hart or Morse?
---
---