Fri., Aug. 17, 2012, 8:44 a.m.
Fools, Huckleberry Bushes Don't Mix
pulled into Dairy Queen on Appleway in Coeur d'Alene recently with a buddy for something cool … and instead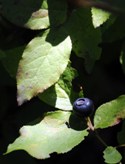 ended up hot under the collar. There in the parking lot was a North Idaho pick-up truck, the bed piled with huckleberry bushes that had been sheared off in the forests for their prized fruit. The culprits and a car-load or two of friends were "picking" berries in the DQ parking lot, then taking them inside for an illegal huckleberry parfait. Shame on you! I wish I'd written down your license plates! You might think you're making easy work for yourself, but you're not only breaking the law, you're giving a bad name to the rest of us who look forward to REAL huckleberry picking, AND you're killing a truck-load of bushes that likely will never produce again, or at least won't for decades/Bob Baker, Coeur d'Alene. More here.
Question: What would be a fitting penalty for this crime against huckleberries?
---
---