Mon., Dec. 3, 2012, 8:17 a.m.
New Aryan Compound Dimly Run
The headline in the latest Southern Poverty Law Center Intelligence Report looks like cause for alarm: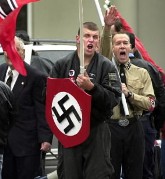 "Neo-Nazi Builds North Idaho Compound to Replace Defunct Aryan Nations" The story – about taco-truck protester Shaun Winkler – appropriately casts a close eye on the doings of one of our region's main cockroaches. Fortunately, a closer look at the actual story – a piece written by my former colleague Bill Morlin – suggests a better headline: "Doofus Falls Short in Dubious Plan to Replace Defunct Aryan Nations." In any case, there's plenty of evidence in Morlin's story to suggest that the headline ought to be taken with a boulder of salt. Morlin knows as much about the history and operations of these mouth-breathers as anyone, and his piece provides all the information you need to understand why the current events surrounding Winkler, though important and newsworthy, do not yet signal a return of the bad old days/Shawn Vestal, SR. More here. (SR file photo of Shuan Winkler, center)
Question: Why do you think Butler was able to build a compound when wannabes who have come after him have failed to rekindle the hate flame?
---
---