Tue., Dec. 4, 2012, 3:39 p.m.
Idawa: 'Hobbit' Improves With Age
Idawa (re: Are you ready for "The Hobbit"?): I was a big fan of LOTR as a teen, and I loved Jackson's adaption,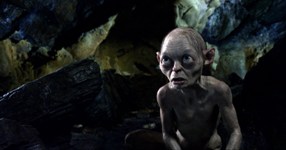 but I never WAS a big Hobbit fan so can't say I've given this much thought. I say WAS, because I did go back and reread the Hobbit this weekend and I realized that I was never a fan because I must not have finished it as a kid - I only remembered up to the point where they are captured by goblins (orcs) and he gets the ring. The reason why the story never seemed that compelling is because I had never gotten to the end of it!! Strange how I thought I had read something as a kid and now realize that I hadn't. But now that I have, I am thoroughly excited to see this treatment. (AP/Warner Bros. photo: Andy Serkis' Gollum)
Question: Did you read a book as a kid that you re-read as an adult -- and had a different reaction to it?
---
---