Wed., Dec. 5, 2012, 9:26 a.m.
800 Turn Out For Coal Train Proposal
Eight hundred people poured into Spokane County Fair and Expo Center on Tuesday afternoon to debate a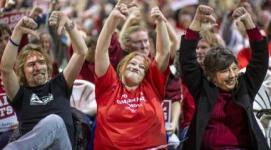 proposed coal port facility in northwest Washington. Proponents stressed jobs; environmentalists talked about risks, including global warming from expanding coal consumption in Asia. People lined up early to secure a limited number of speaking spots handed out to those first in line. A trade organization promoting coal shipments hired about 30 temporary workers to stand in line from 8 a.m. until 3:45 p.m. to get speaking spots for their representatives. Environmentalists arrived early as well to ensure that people traveling from communities near the coal fields of Montana and Wyoming would get a chance to speak/Mike Prager, SR. More here. (Colin Mulvany's SR photo: Coal export opponents, left to right, Wayne Spitzer, Ginger Hughes and April Beasley respond to a pro-export speaker's testimony)
Question: First, the refueling depot, now coal trains. Is this the price of progress?
---
---