Wed., Dec. 5, 2012, 8:46 a.m.
Commentary: UI Made Right Hire
It could've been so easy for Idaho athletic director Rob Spear. Fresh off a 1-11 season and facing a conference-less future, the Idaho Vandals were in desperate need of a system reboot. As pressure mounted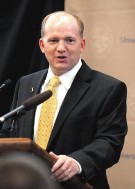 and the rumor mill churned, it seemed entirely feasible that the athletic director would hit the safety valve. Spear could've brought in one of the old boys. A man who had been leveraging for a return to Moscow since he left it more than a decade ago. There were also the former quarterbacks - one who, as a first-year Football Bowl Subdivision offensive coordinator, led the San Jose State offense to likely its most productive season ever and another who has professed his love for the Palouse on several occasions since taking over for deposed coach Robb Akey in October. Then there was the darkhorse, who was a longtime Division II coach looking to make the leap. Each of these candidates brought something different to the table - both good and bad/Troy Warzocha, Lewiston Tribune. More here. (AP photo of Paul Petrino)
Question: Are you excited by the hiring of Paul Petrino as Idaho Vandals football coach?
---
---