Tue., Dec. 11, 2012, 1:16 p.m.
Appeals Court Sides w/Dispensaries
The drug-trafficking convictions of the man who operated Spokane's first medical marijuana dispensary were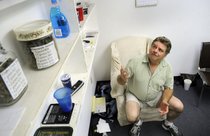 reversed today in a ruling that also appears to clear the way for commercial dispensaries to operate legally in Eastern Washington. But while the case provides needed clarification in state law over how medical marijuana users can legally fill their prescriptions, the wild card remains how federal authorities will react to what they've called illegal commercial trafficking operations, local defense attorney Frank Cikutovich said. "I couldn't be happier," Cikutovich said of the ruling to reverse the convictions of Scott Q. Shupe. "My hope is that we can get to the point where this can help patients that this law was designed for"/Thomas Clouse, SR. More here. (SR photo)
Question: Do you agree/disagree with this decision?
---
---