Tue., Dec. 11, 2012, 1:22 p.m.
Exchange Decision Due This Week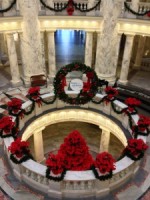 The clock ticks down this week on a decision Idaho lawmakers have avoided and studied and postponed for much of the last year. On Friday, states must tell the federal Department of Health and Human Services whether they plan to form a state-based health insurance exchange, pursue a partnership with the federal government, or default to a wholly federally-run model. Exchanges are the online marketplaces that allow consumers to assess health insurance plans based on costs and benefits. They're a main component of the Affordable Care Act, and they're supposed to be up and running by 2014/Molly Messick, StateImpact. More here. (Molly Messick StateImpact photo: State Capitol decorated for the holidays)
Question: What do you think Butch will do?
---
---