Tue., Dec. 11, 2012, 3:50 p.m.
Prank Call Station To Donate Ad $$$
2Day FM, the Australian radio station behind a prank call to Kate Middleton's hospital plans to donate money to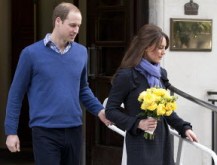 the family of the nurse who was found dead after the hoax. Last week, nurse Jacintha Saldanha transferred a call from two Australian DJs posing as Queen Elizabeth and Prince Charles to a colleague. They were given confidential information about Kate Middleton's condition. Saldanha was later found dead in a suspected suicide, with many alleging that the hoax led her to take her life. BBC reports that 2Day FM will donate its advertising profits for the rest of the year to a memorial fund to benefit Saldanha's family. At least 500,000 Australian dollars (£320,000) will be donated/Huffington Post. More here. (AP photo: Britain's Prince William stand next to his wife, Kate, as she leaves the King Edward VII hospital in London.)
Thoughts?
---
---