Fri., Dec. 28, 2012
Coeur d'Alene Tribe elder dies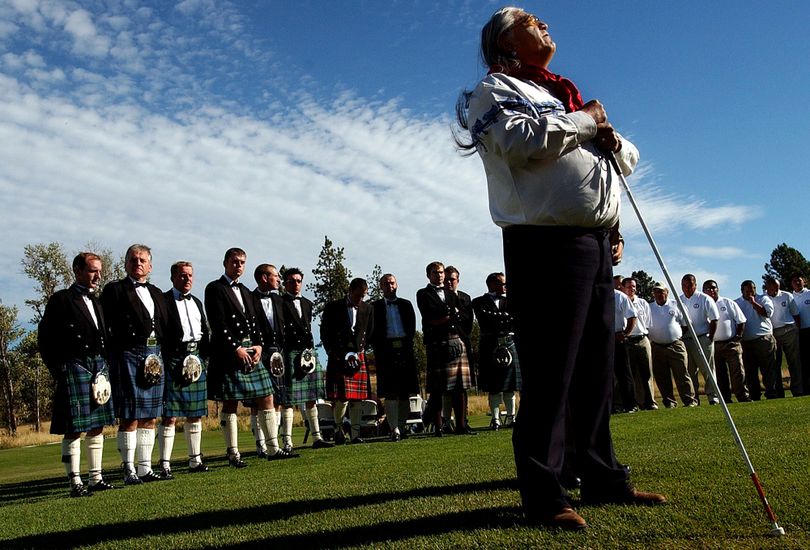 Coeur d'Alene Tribe elder Cliff SiJohn announced the arrival of Scotland's Royal Dornoch Golf Club during the opening ceremony of the Circling Raven/Royal Dornoch Challenge at the golf course in Worley in 2005.
Clifford J. SiJohn, a Coeur d'Alene Tribe elder active in preserving the tribe's customs and cultural heritage, died Christmas Eve in Coeur d'Alene. He was 67.
His funeral mass will be at 10 a.m. today at the Rose Creek Longhouse in Worley, Idaho, and he will buried at the DeSmet Mission Cemetery.
SiJohn was a Vietnam War veteran, former police detective and cultural awareness director for the tribe. He also was emcee for the horse parade at Julyamsh, the annual powwow hosted by the Coeur d'Alene Tribe in Post Falls.
"We are proud of Cliff. He was a great asset to the Coeur d'Alene Tribe, our casino resort and the Northwest," said Chief Allan, chairman of the tribe, based in Plummer. Full story. Scott Maben, SR
Sad loss for the Tribe and for the CdA community.
---
---