Fri., Feb. 3, 2012, 4:11 p.m.
Edit: Appleton Lived Life To Fullest
Idaho Statesman editorial for Saturday: Micron Technology Inc. was unquestionably Steve Appleton's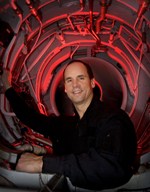 company. "It was ruled by one guy," former Micron employees and Boise semiconductor analyst Mike Howard said. For the years that have coincided closely with Appleton's time and corporate climb at Micron, this has also been Boise's company. The Treasure Valley's connection to the global and fiercely competitive computer chip sector, Micron has been one of the Valley's largest private employers. On Friday, Appleton left a void at Micron, and in a Valley he supported with his generosity and philanthropy. He died suddenly and too soon while pursuing one of his off-hours passions: flying. Appleton died at age 51 — too young for someone who, as Gov. Butch Otter said Friday, "lived life to the fullest"/Kevin Richert, Idaho Statesman. More here. (2005 AP file photo of Steve Appleton)
Reaction?
---
---