Wed., Feb. 15, 2012
WSU Frosh Eyes Firefighting Career
Except for the buzz cut, Gilberto Gonzalez seems like a typical wholesome 19-year-old: Enthusiastic, helpful, a bit shy. But when he's asked to stand in front of the fire truck for a photo, it all changes. He raises his chin,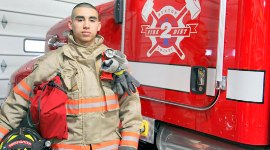 squares his shoulders. His eyes narrow and grow fierce with pride. Gilberto is a trainee at the Benton City, Wash., fire station. He lives across the street in a house he shares with five other Benton County Fire District 2 volunteer residents. He's also a lance corporal in the U.S. Marine Corps Reserves and trains at Joint Base Lewis-McChord in Tacoma. "I was helping my nation with the Marine Corps Reserves but I wanted to help my community too," Gilberto said. "What better than working here as a firefighter?" When he's not protecting his country and community, Gilberto is preparing to fight crime. He's earning an online criminal justice degree from Washington State University so he can become a fire marshal/Richard Miller, WSU News Center. More here.
Question: What were your goals when you were 19?
---
---