Thu., Feb. 23, 2012
Commish Tondee To Seek Re-election
County Commissioner Todd Tondee will announce today his re-election bid to serve a two-year term on the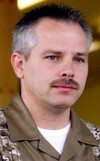 Kootenai County Commission. Tondee, who won election to the District 1 seat four years ago with an over 23% margin, will make the announcement during a meeting of the Kootenai County Reagan Republicans, Noon today at Fedora Pub & Grille, 1726 W. Kathleen Ave. in Coeur d'Alene. Tondee, 47, has served on the Kootenai County Commission for five years and lives in Post Falls with his wife of 25 years DeDe. They have two grown children/Todd Tondee news release. More below
Question: Are you satisfied with Tondee's performance as commissioner?
Originally from Houston, Texas, Tondee moved to Kootenai County in 1993 to run a small business in Post Falls. As well as serving on the County Commission and running an automotive sales business, Todd has been very involved in community affairs including serving three years as a Post Falls City Councilmen/Todd Tondee news release. More to below.
He is known as an active volunteer serving with Post Falls Chamber of Commerce, Leadership Coeur d'Alene, as a Board Member of the Boys and Girls Club, and Post Falls Community Volunteers.
Tondee admitted "I am not a big orator, a riveting speaker, or a political glad-hander. I am quiet conservative guy who just wants to get the job done. I listen more than I speak and do more than I say."
Tondee expressed his commitment to the people's right to vote and will fight those who seek to take away the people's Constitutional right to determine the form and structure of their county government "On my first day as county commissioner I swore to uphold our Constitution. That has been my goal and guiding principal from that day on."
He also laid out his priorities if elected: "I am a conservative who wants to create more good paying jobs, defend our property rights, and make sure government is accessible to all, not just a few."
---
---