Fri., Jan. 13, 2012
Wolves Attack Dogs In Wallace Area
Correction: Wild dogs attack Rottweiler in Wallace/Mike Perry, KHQ
Domestic dogs were attacked by four wolves around 6 p.m. Wednesday night on the 600 block of Burke Road,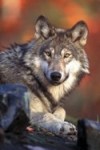 just outside Wallace. One dog died and another sustained a facial bite, said Shoshone County Sheriff Mitch Alexander, and there were many wolf tracks in the area. A neighbor reported the dog that died was a Rottweiler. Idaho Fish and Game notified residents in the area and informed them that it is legal to shoot the wolf pack. Calls made to Idaho Fish and Game official Josh Stanley about the attack weren't returned. Mullan resident Barry Sadler didn't just have his dogs attacked by wolves a few years ago - they chased his daughter into the front door and came right up on his porch. Sadler shot and killed one of the offending wolves/Kelsey Saintz, Hagadone News Network. More here.
Question: Do you still think Br'er Wolf is harmless?
---
---