Mon., June 4, 2012
Game Show Host Dawson, 79, RIP
Richard Dawson brought a saucy, unabashedly touchy-feely style to TV game shows as host of "Family Feud."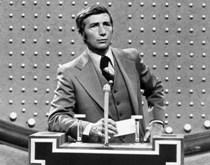 The British-born entertainer, who died Saturday in Los Angeles, earlier had made his mark in the unlikely 1960s sitcom hit "Hogan's Heroes," which mined laughs from a Nazi POW camp whose prisoners hoodwink their captors and run the place themselves. But it is as the kissing, wisecracking quizmaster of "Feud" that he will be remembered. The show, which initially ran from 1976 to 1985, pitted a pair of families against each other as they tried to guess the most popular answers to poll questions such as "What do people give up when they go on a diet?" Dawson made his hearty, soaring pronouncement of the phrase "Survey says..." a national catchphrase among the show's fans/Christian Science Monitor. More here. (AP file photo)
Question: Am I the only one who remembers Dawson as a member of the "Hogan's Heroes" ensemble?
---
---