Mon., June 11, 2012
Hucks: Did The Birds Really Fly?
Mary Souza, an organizer of the Coeur d'Alene recall effort and bitter foe of Mayor Sandi Bloem and Councilman Mike Kennedy, claims she's enjoying good vi-vi-vibrations from the community. She contends 80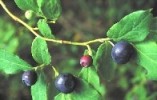 percent of the feedback to her throw-da-bums-out crusade has been positive, including drivers who wave, honk and give thumbs-up to volunteers collecting signatures on sidewalks. In a recent newsletter, however, Mary castigates the "weird negative vibe from the few Anti-recall folks" – some of whom, gadzooks, have given the Recallers a thumbs-down. Others, according to Mary, have gone further by flipping Recallers off, including a family of five – "both parents and 3 small children … all at once as they drove by." Huffs Mary: "Great parenting from the anti-recall group." Seems Mary, per usual, is conclusion jumping by blaming anti-recallers for the joint familial finger, if that's what really happened. Most parents can't persuade kids to eat veggies let alone behave long enough to flip someone off in unison/DFO, SR Huckleberries print. More here.
Question: Have you been flipped off by another motorist in the last year?
---
---