Mon., June 11, 2012
Rough Count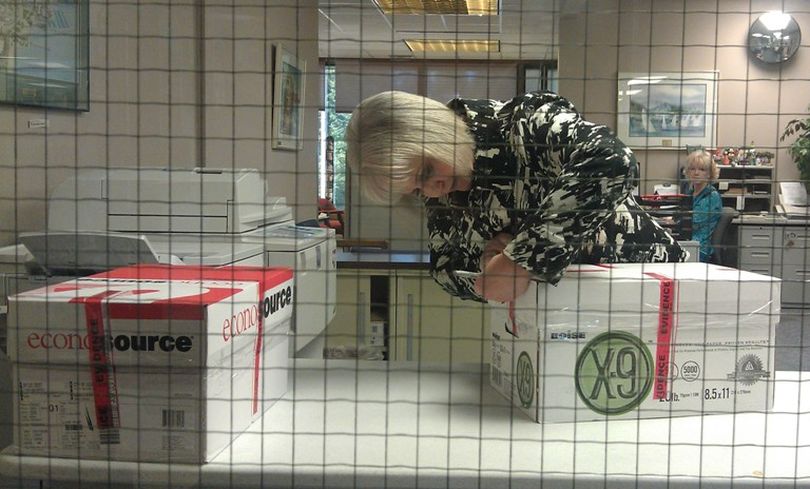 City Clerk Susan Weathers cuts the tape on one of the boxes of petitions turned in this morning by Frank Orzell and Bill McCrory of the RecallCDA group, who were accompanied by Coeur d'Alene attorney Glen Walker. (Phantom Photographer photo)
City Clerk Susan Weathers & her staff did a rough count on the number of RecallCDA signatures acquired for Mayor Sandi Bloem and council members Deanna Goodlander, Woody McEvers and Mike Kennedy. The rough total is as follows:
Mayor Sandi Bloem: 5,384
Councilman Mike Kennedy: 5,327
Councilwoman Deanna Goodlander: 5,314
Councilman Woody McEvers: 5,267
The amount of valid signatures needed to trigger a recall vote is 4,311. Once validated and turned back by the county Election Department to the Coeur d'Alene city clerk, Susan Weathers will have her choice of four election dates over the next year to schedule a recall election (if any of the targetted individuals qualify): in August, during the general election in November, next March or next May. Interestingly, if 20 percent of the signatures are disqualified, which is a low number for petition drives, none of the targetted elected officials would qualify for a recall election. At a 20 percent disqualification rate, Bloem would have 4,307 signatures against her. Can you imagine the fun that would occur, if RecallCDA failed by less than 5 votes to win a recall election?
Thoughts?
---
---