Wed., June 13, 2012, 11:19 a.m.
Edit: Craig Violated Donors' Trust
On Monday — four years and 364 days after his arrest in a Minneapolis airport — Larry Craig became a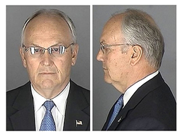 defendant in a civil case. This time, the Federal Election Commission sued the former senator, his campaign committee and Kaye O'Riordan, his former campaign treasurer. According to the FEC, some $217,000 was siphoned from campaign coffers into Craig's criminal defense; the agency wants Craig to pay back the money, and is seeking fines for Craig and O'Riordan. Whether Craig violated campaign finance rules is a matter for a Washington. D.C., court to decide. But if the FEC's claims are correct, Craig and his campaign team certainly violated their donors' trust/Idaho Statesman. More here. (AP file photo of Larry Craig booking photos)
Question: Do you agree with Statesman editorial that former U.S. senator Larry Craig violated his donors' trust, if not FEC law, by using campaign money in his criminal defense?
---
---