Thu., June 14, 2012
Good Egg Salad Sandwich Hard 2 Find
A good egg salad sandwich is as hard to find these days as a hardcore LaToya Jackson fan. The situation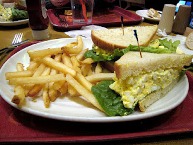 kind of came into focus for me a few weeks ago when a slightly grizzled, new-to-town random guy bellied up to my bar, ordered a jack and Coke and at one point in our conversation he blurted out "there's only one thing wrong with this town. You can't find a god damned decent egg salad sandwich!" I thought about it for a few minutes. "Yeah. This guy is on to something." I was drawing a complete blank on how to solve this guy's egg salad dilemma. You can most likely find some kind of pre-packaged, sad sack egg salad blandness between two slices of ghetto bread in every gas station deli cooler and call center vending machine in town, but that doesn't even count/OrangeTV, Get Out! North Idaho. More here.
DFO: Just when I began to despair that the tap had run dry on OrangeTV reviews ... voila.
Question: Are you a fan of egg salad sandwiches?
---
---