Wed., June 20, 2012, 1:59 p.m.
Carlson: Iconic Darrington Retires
With his closely cropped hair resembling a military buzz cut one would think Denton Darrington (pictured) was a former U.S. Marine. He's not, but he is the living personification of the Marine motto --Semper Fi (Always faithful) --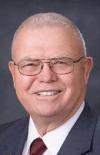 with his fidelity to family, friends, LDS faith, his state and country, the Idaho legislature and the teaching profession. After a record 30 years of service in the state senate, Denton is leaving and returning to his farm full-time since he also retired from the classroom, having been an educator for 33 years. The people of Idaho in general and supporters of education in particular owe him a solid vote of gratitude for a job well done. Rather than run against good friend State Senator Dean Cameron (R-Rupert), chair of the powerful Joint Finance and Appropriations Committee, when redistricting combined their districts, Darrington, true to his genuine modesty, chose to retire/Chris Carlson, St. Maries Gazette-Record. More here.
Question: Will you be missed at your workplace when you retire?
---
---