Wed., June 20, 2012, 11:50 a.m.
CdA Signs w/Ironman 5 More Years
Not to be overlooked from last night's City Council meeting ... the council unanimously agreed to another five-year contract with Ironman for the city to continue hosting Ironman Coeur d'Alene. This is from City Clerk Susan Weathers' rough draft of the minutes: "City Attorney Mike Gridley noted that it has been 10 years since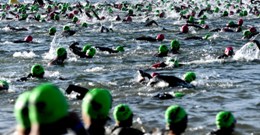 Ironman came to Coeur d'Alene. He presented a 5-year contract with World Triathlon Corporation for continuing the Ironman race in Coeur d'Alene. He noted that not much has changed in the contract but noted that one of the changes is the bicycle course now going south on US 95. Councilman McEvers noted that there is not much of a change in the cost to the City, but rather just more specific language in the contract. City Attorney Gridley confirmed that is the case. Steve Wilson, representing the Coeur d'Alene Chamber of Commerce, confirmed that the sponsorship fees have gone up around the country but they have kept our Chamber's sponsorship fees the same and have also allowed the Chamber increased opportunities for fund raising." Complete rough draft of council minutes here. (SR file photo)
Question: Are you a fan of Ironman? Indifferent? Oppose it?
---
---