Thu., June 21, 2012
Update: CdA Shooter Identified
The Multi agency SWAT team took Zebulon R. Batke, 33, of Coeur d'Alene into custody at 1:50 p.m. today.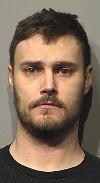 Coeur d'Alene Police and the SWAT team had surrounded his residence for several hours and attempted to get him to comply with lawful orders before breaching the door to his apartment. Batke was found inside the residence asleep in his bedroom. He had barricaded himself in his room. He was armed with a fully loaded AK 47 assault rifle, a loaded 357 Mag. and a single shot shotgun. Batke was arrested and charged with two counts of shooting into an occupied residence (felony) and one count of Aggravated Assault (felony) connection with the shooting that occurred at 2:30 am this morning in the 700 block of 3rd St. The residence he shot at is the home of his ex-girlfriend. Batke has prior arrests for alcohol offenses, battery, and mayhem/Sgt. Christie Wood, Coeur d'Alene Police Department. More below
H/T: Dylan Wohlenhaus/KXLY for providing HucksOnline w/old photo of Zebulun Batke
Agencies assisting Coeur d'Alene Police in the incident included Kootenai County Sheriff's Department, Post Falls Police, US Forest Service, Coeur d'Alene Fire, Kootenai EMS, Spokane City Police, Spokane County Sheriff's Department, Spokane Valley Police, FBI-North Idaho Violent Crimes Task Force, and Air One from Spokane County SD.
---
---