Fri., June 22, 2012
Hardliners Emit Agenda 21 Bat Signal
They may have been beaten at the GOPrimary election but Kootenai County's uberconservatives are unbowed,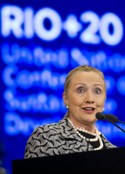 still giving credence to their notion that Kootenai County is about to embrace socialist land-use planning. Imagine our conservative commissioners doing something like that. Case in point, this ad from the current Nickel's Worth: "BEWARE! YOU HAVE been zoned by the ULUC (United Land Use Code). You will comply. Your Kootenai County Commissioners are in the process of taking away your property rights. Stand with us in opposition at the public ULUC workshop on Tuesday, June 26th, 2012, 5:45pm-7:45pm, CdA Library, 702 E. Front Ave., CdA in the community room. Paid for by Concerned Citizens of Kootenai County, David Crane, Melanie Vander Feer, Jennifer Locke." (AP photo: U.S. Secretary of State Hillary Rodham Clinton gives a speech at the United Nations Conference on Sustainable Development in Rio de Janeiro, Brazil, earlier today)
Question: How can anyone sincerely believe that the conservative commissioners of Kootenai County are part of some grand scheme to put land-use planning under outside control?
---
---