Thu., March 22, 2012
Huckleberries Hears …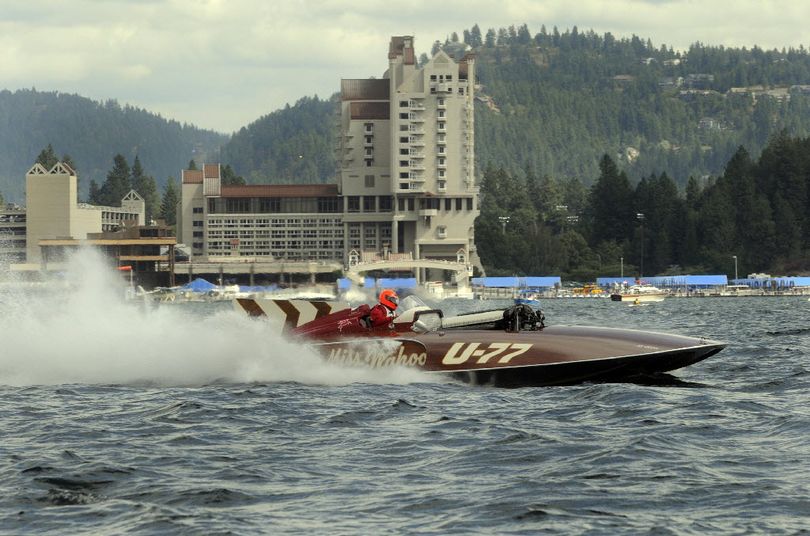 David Williams pilots the "Miss Wahoo" in front of the Coeur d'Alene resort Aug. 22, 2010, the first time any hydroiplane had been on the lake in 42 years. SR file photo: J. Bart Rayniak.
... That Hagadone Hospitality is working behind the scenes to bring a hydroplane regatta to the shores of Silver Beach this summer. Berry Pickers tell me that Hagadone's property and grounds at Silver Beach (Beachouse & Marina area) would be used for viewing. HHospitality has asked the city to help with the logistics of staging the event along Lake Coeur d'Alene Drive. Also, future plans call for the regatta to transform into a hydroplane race in the summer of 2013. As you know, Coeur d'Alene millionaire Duane Hagadone has been trying to bring unlimited hydroplane racing back to Lake Coeur d'Alene since 1985 when he was thwarted by a reluctant Coeur d'Alene City Council, headed by then mayor Jim Fromm, which on a 4-3 split opted for an advisory vote. Hagadone pulled the project before the public voted 3-to-1 against the proposal. In recent years, hydroplane supporters have staged race demonstrations under the pretext of raising money for the North Idaho Museum. Stay tuned.
Question: I wonder if Coeur d'Alene residents would be more in favor of unlimited hydroplane races on Lake Coeur d'Alene than they were in November 1985?
---
---