Fri., Nov. 9, 2012
Explanation Points: Use & Abuse!
In an ebook titled Write Good or Die, edited by thriller author Scott Nicholson, was an article written by Nicholson titled Seven Bad Habits of Highly Unsuccessful Writers. In the article Nicholson, who had worked as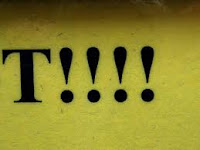 a freelance editor and journalist for several years, reminded writers of a handful of minor problems that can "sap the vitality out of an otherwise compelling story." These included proper comma usage, point of view confusion, too many useless mannerisms, the use of adverbs, and the importance of clarity when using "he said" and "she said" in dialogue. He also mentioned the overuse of exclamation marks in writing. Nicholson advises writers to "hoard your exclamation points and only dole them out when necessary." He further states that dependence on them indicates a lack of power in your action sentences/Nancy Owens Barnes, Writing North Idaho. More here.
Question: I use about one exclamation point per month. How about you?
---
---