Fri., Nov. 9, 2012
PM Scanner Traffic — 11.9.12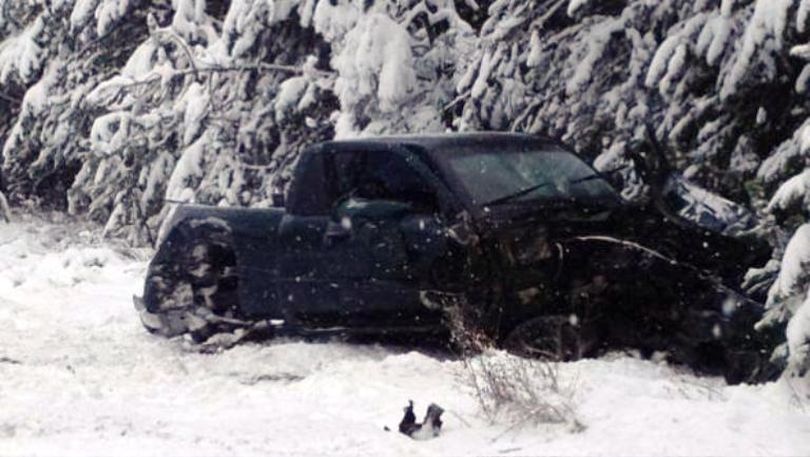 Another photo by Dylan Wohlenhaus/KHQ of a vehicle involved in head-on crash on H41 & Seasons/Twin Lakes area this morning. You can read more about it here.
6:03 p.m. Single-vehicle, rollover accident @ Diagonal & Clagstone/Athol. Unknown injuries.
5:46 p.m. Vehicle hit telephone pole @ intersection of H95 & H54/Athol.
5:26 p.m. ISP officer pronounces I-90 in Post Falls/CdA areas "a solid sheet of ice."
5:15 p.m. Coeur d'Alene Police Department activities report for Nov 8-9 here.
5:04 p.m. Dispatcher reports slideoffs @ every H95 i/s b/n Hayden thru north of Silverwood/Athol.
4:54 p.m. 4-5 vehicle crash, w/1 in ditch & 2 pointed wrong direction, @ e/b I-90/4th, CdA.
4:29 p.m. 1 man bleeding from face, 1 still inside blue Dodge Caravan after rollover near Rathdrum Prairie railroad crossing. Unknown location. Both refusing medical attention.
4:24 p.m. Traffic e/b on I-90 backed up to Huetter rest stop (MP 8) as result of 4:02 wreck.
4:08 p.m. 2 females are stuck in disabled vehicle @ top of w/b I-90/Spokane St. onramp/PF.
4:02 p.m. 1 vehicle in median, other spun facing wrong way @ e/b I-90/MP11 (NW Blvd, CdA).
4:05 p.m. Caller reports house boat has been moored @ Harrison docks for a month.
18 more items + AM Scanner Traffic line in drop-down box below
3:49 p.m. Patrol officer reports corner of H41/Diagonal, north of Rathdrum, extremely slick.
3:48 p.m. Possible 3-vehicle crash on e/b I-90/MP 15 (near Sherman exit/CdA).
3:44 p.m. Red pickup resting on barrier after loosing control on w/b I-90/Pleasantview, PF.
3:41 p.m. Female bleeding from face in 1500 block of Sherman Avenue/CdA.
3:30 p.m. A disorderly male is sitting in front of room at Budget Saver, 1519 Sherman/dA.
3:06 p.m. Penske truck pulling trailer is broken down in turn lane of I-90/Dalton, CdA.
2:57 p.m. Crash on Spokane River bridge/NW Blvd blocking traffic both ways on H95/CdA.
2:56 p.m. 3-vehicle crash, including rollover, is blocking w/b I-90 @ NW Blvd/CdA. One vehicle is half turned over median. 4 of the concrete barriers in the median have been displaced.
2:50 p.m. 60YO male in & out of consciousness @ bus stop @ Lew Schwabs, H95 & Honeysuckle.
2:26 p.m. Unoccupied, blue Dodge Neon has slid off road @ Lancaster & Huetter.
2:13 p.m. Tenant-landlord dispute reported @ 12th Avenue/Monarch, Post Falls.
2:11 p.m. Cat on freeway is creating traffic hazard @ w/b I-90/MP 7, H41/Post Falls.
2:10 p.m. Female regains consciousness & now is angry at J.C. Penney's/Silverlake Mall.
2:01 p.m. Officer reports lights @ Ziggy's/Hayden are snow-covered & drivers are running them.
1:42 p.m. Possible residential burglary reported in 600 block of Wilbur Avenue/Hayden.
1:18 p.m. Disabled black sedan is 1 foot into lane on e/b I-90/MP 7, H41, Post Falls.
12:33 p.m. SUV has hit guardrail @ w/b I-90/MP 10.7, Northwest Blvd, CdA.
12:14 p.m. Boy approximately 10 wants instructions re: how to get to Hayden Meadows, telling resident on Reed/Hayden that he ran away from home 2 days ago. Not dresses correctly for weather.
---
---